Beyond Basic Peer-to-Peer Audio/Video

LiveSwitch is an on-premise or private cloud software-based server that extends traditional WebRTC peer-to-peer video conferencing to include multi-party use cases that require advanced features and functionality. From two participants to ten thousand, LiveSwitch makes WebRTC- and SIP-compatible audio/video conferencing scalable, efficient and truly cross-platform.
The unique hybrid combination of peer-to-peer mesh networking, selective forwarding (SFU) and multi-point control (MCU) makes LiveSwitch specifically designed to enable powerful applications that include:
audio/video conferencing,
data channel interfacing and forwarding,
intelligent transcoding,
session recording,
SIP-based telephony integration,
text chat & messaging,
screen sharing,
browser synchronization (i.e. whiteboarding),
file transfer,
push notifications,
and more...
LiveSwitch is used by enterprises worldwide in a wide variety of use cases including Telehealth, Broadcasting, Telephony, Virtual Classrooms, Customer Service, Virtual & Augmented Reality, and general Application Development.
Contact Us to discuss your use case today.
Selective Forwarding for Video Conferencing
A selective forwarding unit (SFU) topology uses a one-up, many-down architecture that lets participants send their media once to the server where it is optionally transcoded and distributed out to connected downstream clients. 
This reduction in upload bandwidth and client CPU usage allows each client to scale up to larger multiparty conferences with ease.  Additionally, with our exclusive SFU transcoding feature, the server  directly forwards the media packets without decoding/encoding, yet is smart enough to transcode when codec incompatibility is detected. 
Large Group Multiparty Audio & Video Mixing
LiveSwitch also functions as a multipoint control unit (MCU), and supports mixing audio and video together into a single stream based on standard or user-defined video templates.
With just one upload stream and one download stream for each participant, this is especially useful for legacy and resource-constrained devices. The server handles all the mixing automatically, and each output stream is delivered to to the client in the format their device requires.                                                                                                                                                                                                                                      
SIP Connection for VOIP/PSTN Integration
LiveSwitch provides a SIP connector that can be used to directly access SIP trunks or integrate with VOIP/PSTN virtual PBXs such as FreeSwitch and Asterisk. Learn more. 
Audio/Video Stream Recording
LiveSwitch can record individual SFU or mixed MCU streams out to Matroska containers in real-time. These files can undergo any post-processing required by your application to mix, modify, or archive. 
The WebRTC Peer-to-Peer, SFU and MCU
Solution that

Plays Nice With Everyone












WebRTC-Compliant
LiveSwitch implements the WebRTC standard, including all required specifications and many optional ones.
Completely

interoperable

with all WebRTC browser implementations, like Chrome, Firefox, Safari and MS Edge (ORTC).
Full support for legacy Internet Explorer versions through the ActiveX plugin included free with the SDK.
Flexible
Unprecidented

API access to the media pipeline

(eg. capture, encode, packetize, send, receive, depacketize, decode, display) enables creation of powerful applications and processes.
Hybrid peer-to-peer, selective forwarding (SFU) and mixing (MCU) capabilities for simple & complex workflows.
End-to-end

customizable encryption

to meet virtually any application requirements.
Cost Effective
Our

on-premise pricing

for private clouds eliminates costly infrastructure price markups commonly applied by competitor's platform.
A common API across virtually all native platforms

enables re-use

between projects and reduces development cycle times

.

Our unique hybrid architecture enables selection of

the most cost effective

combination of

connection types

in real-time.
Hybrid Architecture
LiveSwitch can

dynamically switch

individual connections between peer-to-peer, SFU and MCU topology seamlessly and instantly.
Granular connection controls provide ultimate flexibility for adapting to changing network conditions. 
Industry-unique architecture allows continuous optimization of each client's connection to achieve the best cost versus user experience quality trade-off.
Extensible
Supports simple integration with SIP-based telephony systems through an included connector service and optional custom integrations.
Supports integration with virtually any third-party service or device through

custom connector services

. Bridge your legacy systems into WebRTC-based voice & video conferences.
Completely

customizable video layouts

for both forwarded and mixed video streams.  Build the large scale multi-party conference layout that works for you.
Scalable
The LiveSwitch media server and gateway are

easily clustered and scaled

horizontally or vertically as your platform usage grows.
LiveSwitch is infrastructure agnostic.  Install and scale it on AWS, Azure, Oracle - or even on your own bare metal Linux or Windows boxes.
Create massively scaled one-to-many sub-second latency live video broadcasts using

Docker

containerization and automated deployment managers like Kubernetes

.
Simplified Multi-Device Development 
with 

One API for All Platforms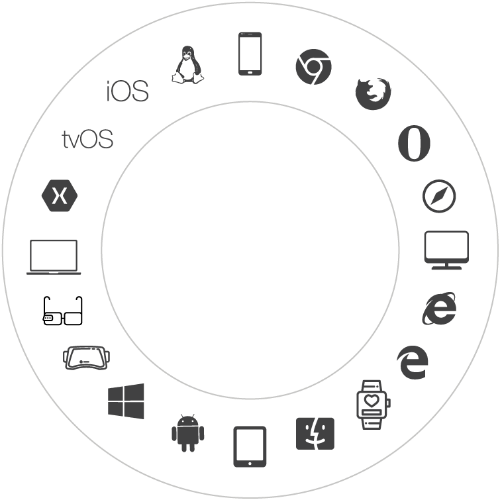 Unparalleled Flexibility with Complete Cross-Platform Interoperability
With the unique abstraction layer in the LiveSwitch client SDK, developers can interact with the video layer through a common shared API regardless of the native platform they are developing for, saving your team time and resources that would otherwise need to understand the subtle differences and oddities between each platform's RTC capabilities.
Adding live video streaming interoperability between platforms, devices and browsers has never been easier.   The LiveSwitch client SDK includes complete libraries for all major browsers, mobile devices, and native platforms - and we are always adding more each month.
Extensive Resources Bundled
with 

Expert Support

 
Download the LiveSwitch Datasheet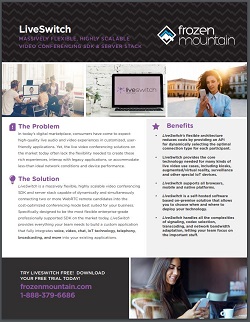 Download our LiveSwitch Whitepaper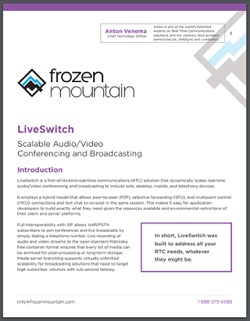 LiveSwitch Getting Started Documentation